Vintage 3 Layers Jewelry Box Ornate Antique Finish Engraved with Lock Organizer Box
SKU: NI-TB054
Brand: NI
Uses: Home storage
Colors: Blue, Green, White, Red
Material: Metal
Product weight: 2 kg
Size: L 21cm * W 15cm * H 19.5 cm (Overall height)
Material: Metallic, Rustless, Fadeless.

Surface Design: Floral Engraved Surface with Flowers Pattern Carvings. Exquisite Engraved Handcraft Antique Metallic Floral.
Durable Inside: Lined with Velvet Three Layers Dividers inside; 

Top layer with 3 compartments to arrange your beloved Rings, Earrings, Bracelets, Necklaces Separately. The Second layer is 1 bigger compartment without dividers for holding larger jewelry. The third floor has two compartment,which can arrange your jewelry in a comfortable position.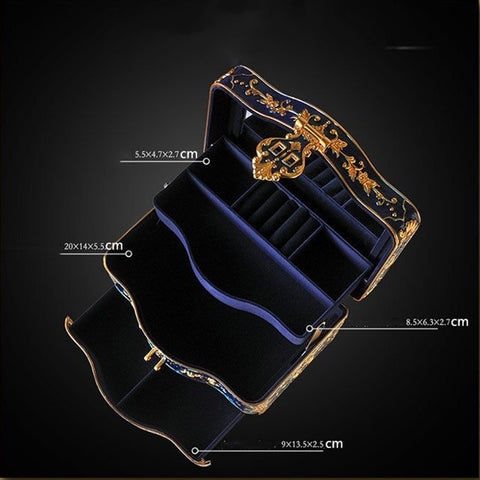 Versatility: Particularly Suitable for Birthday, Exquisite Gift, Retro Collector, Wedding Centerpieces, Special Occasions, Anniversaries, Decor Dresser.

Safe: The jewelry box is of excellent layout, lock with key adds elegance and security.