Best Jewelry Keeper
Advanced fingerprint unlock bring you a very safe and secure jewelry collection. Avoid sharp objects from scratching children or pets. Easy to lock and unlock with your finger, and needn't worry about losing your keys anymore.
Brand: NI
Uses: Home storage
Colors: Brown, Green, Gray
Material: Walnut Wooden,Brass
Product weight: 3.1 kg
Size: L 30cm * W 20cm * H 18cm
FINGERPRINT LOCK: The newly designed fingerprint unlocking function eliminates the traditional key lock and no longer has to worry about losing the key. Unlock in seconds and can store up to ten fingerprints. It can be used more than 100,000 times. Charge with USB, long standby. Advanced convenient and unique, jewelry box with key can keep all your Jewelries in safety place. No need to worry about your children being injured by sharp objects.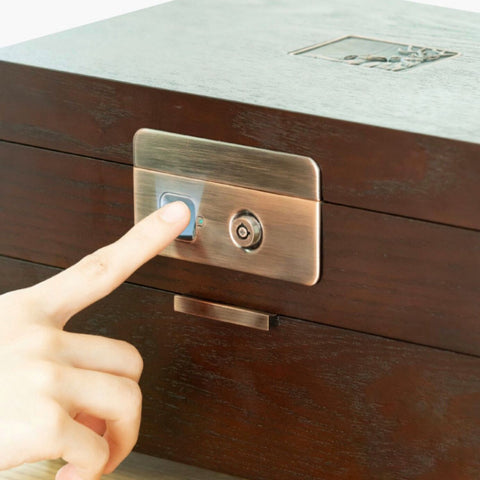 Sturdy & Durable & Fashionable & Crafted: Made of high quality walnut & MDF & solid brass & high-grade velvet. The handles will not fade or rust.Velvet protects jewels from scratches and tarnishes. Solid brass high feet, load-bearing stably and prevent scratches on the table top.
SPARE KEY: Equipped with a spare key, so that you can open the jewelry box when it is inconvenient to use your fingerprint to unlock.
DIMENSION & STRUCTURE: Appropriate dimension: 11.8''x7.8''x7''. Our jewelry organizer is a perfect space saver to clear out your vanity table. There are a variety of different storage compartments on each tray to display all kinds of jewelry or other items as you like. Necklace bracelet holder.Full-mark practicality!
TIPS
.When you receive the goods, please charge it for 8 hours first.
The indicator light does not light up when touching the fingerprint sensor, please check whether the battery is sufficient or the jewelry box is closed. If the jewelry box is open, please close the jewelry box tightly.