Brand: NI
Uses: Home storage
Colors: Blue, White, Red
Material: Metallic, Rustless, Fadeless.
Product weight: 1 kg
Size: L 18cm * W 12cm * H 8 cm 
Durable Quality - This vintage jewelry box is made of premium zinc alloy which is long-lasting,anti-oxidize,rustless and it will never fade. Soft elegant dard blue velvet on the inside,protects jewelry from dust and scratches.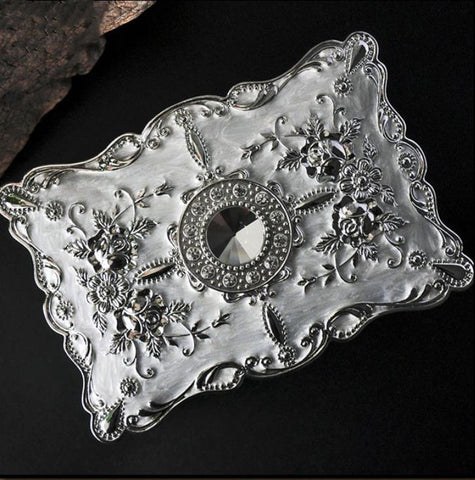 Two Layer - There are 2 Layers dividers inside,and blue ribbons to lift up the top layer; Top layer with 3 compartments to arrange your beloved Rings, Earrings, Bracelets, Necklaces Separately.The second layer is one bigger compartment without dividers for holding larger jewelry.

Exquisite Vintage Design -This jewelry box unique in form, color beautiful, exquisite engraved handcraft antique gold floral floral pattern , classic and delicate,.A pretty trinket box to the top of your dresser,it always keeps your jewelry organized and elegant,show off your special good tastes.
Versatility: Particularly Suitable for Birthday, Exquisite Gift, Retro Collector, Wedding Centerpieces, Special Occasions, Anniversaries, Decor Dresser.