Brand: NI
Uses: travel, home storage
Colors: Beige lining. Brown lining
Material: Wood
Product weight: 1.3 kg
Size: L 30cm * W 22cm * H 8.5cm
Made of rustic quality wood. This luxury wooden box for watches has plenty of space between the lid and cushions to accommodate watches .

There is plenty of space between the lid and cushions to accommodate different size watches (30mm-50mm). Each watch cushion holds a small or large watch neatly in place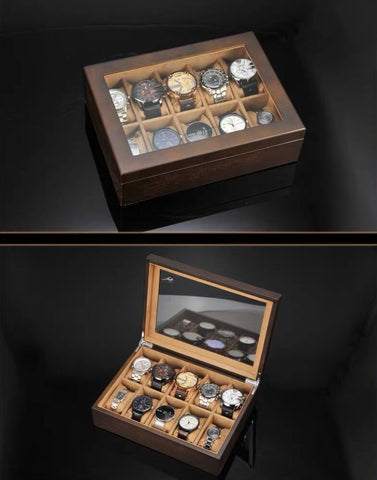 Your watches and jewlery will be protected well from dust and scratching for the transparent glass cover. Glass Viewing Cielling Great watch box for mens watches and display case for any watch collectors.

Watch Valet Fabulously Finished wood watch holder, Inside Bottom is lined with felt. Bottom of watch box is felted to prevent scratches to surfaces.
With elegant appearance and considerate design, this watch case is great for personal use, shop display and home decoration. this lockable organizer will be an ideal gift for birthday, valentine's day, wedding, Christmas and new year.